Five Things Not to do When Selling Your Home.
Posted by Ian Ziegler on Tuesday, November 1, 2016 at 8:12 PM
By Ian Ziegler / November 1, 2016
Comment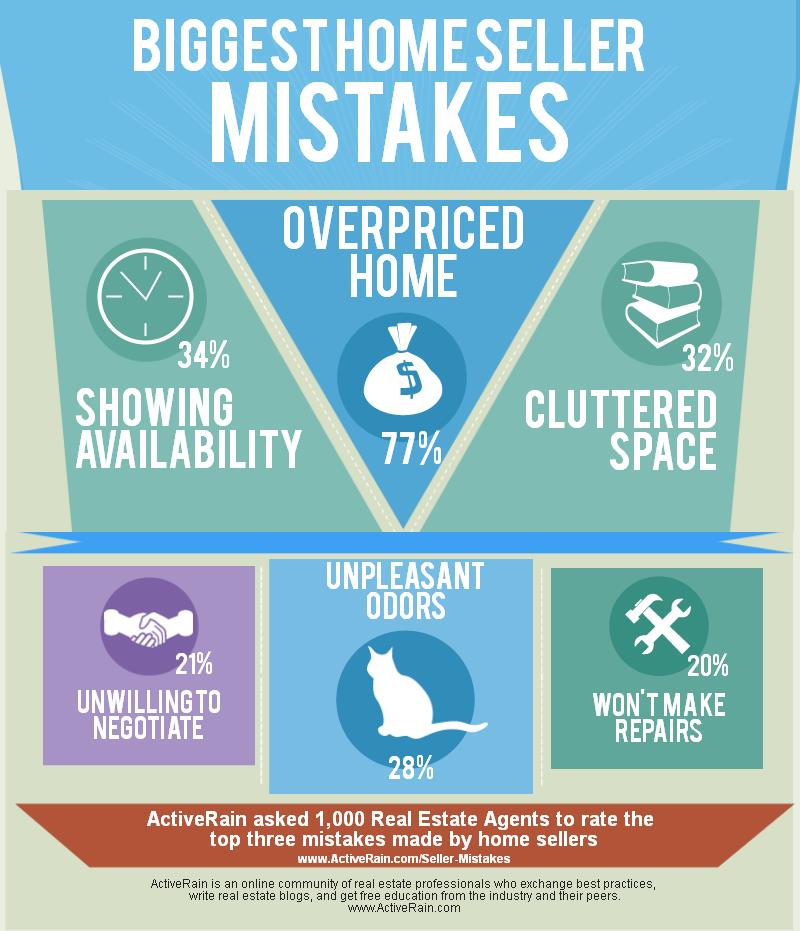 If you've ever tried to sell your home, you know it can be a very stressful experience. Between trying to keep the house spotless to impress potential buyers who may show up at any time, and making an effort to leave the home on a moment's notice when your realtor calls to say she's on the way with clients, it may feel as if your life has turned into a circus. While there may be no surefire way of selling a home, there are certainly a few ways to prevent it from selling. Below, we've listed five of the most important things NOT to do when selling your home.
Don't Overprice Your Home
While your home undoubtedly has a great deal of sentimental value to you and your family, you must be realistic in how much the home is actually worth. Your realtor will show you the selling prices and values of similar homes in your neighborhood, also known as "running the comps," and based on these prices, you'll have an idea of what your home is worth. It's up to you if you want to price the home slightly higher or lower than the number you and your realtor come up with and your motivation to sell.
Don't Allow Foul Odors to Scare Away Buyers
Believe it or not, unpleasant odors are among the top reason homes don't sell! Take out the trash, and clean the litter box before interested parties arrive. On the flip side, it's been said that if you do plan on being home while the home is showing, the smell of cookies baking in the oven can make the home seem warm and inviting, and make your home more memorable than others. First impressions are the only impressions you get in real estate. If you have a bad showing most likely the buyers will not be returning for a second showing.
Don't Neglect to Fix Broken Things
While this may seem to be a no-brainer, it's amazing how many homes we see that need work. If a homeowner has neglected to fix minor things, such as a window that won't close or appliances that are on the blink, the buyer will automatically wonder what bigger things are also in need of repair. Take care of the things you plan on fixing before you list your property; don't give potential buyers any reason not to buy your house.
Do Not Skip Cleaning
Make sure you keep the house clean, from the kitchen, to the bedrooms, to the patio and yard. Nothing will turn off buyers more quickly than the sight of a filthy bathroom. Scrub the tub, paint the walls, and invest in new towels and shower curtains to bring out the best in your baths! Buyers need to be comfortable and visualize themselves living in the house. Cleanliness plays a huge role in comfort.
Try Not to Be Around
Hopefully your realtor has already told you that if you want to sell your home, you should go away! Potential buyers are seldom comfortable touring a home with the owner standing watch; or worse, giving a play-by-play of each room! Give buyers some space and let them take the time to fully appreciate the beauty of your home.
If you follow these five tips on what NOT to do when selling your home, you'll be signing paperwork, and moving on to the home of your dreams in no time! Give us a call or send us an email if you have more questions or want more tips for selling your home.
More helpful links for selling your home:
5 Mistakes When Selling a Home
7 Step Guide to Sell Your Home