Increase Your Home's Value With a Home Improvements
Posted by Ian Ziegler on Tuesday, January 3, 2017 at 1:37 PM
By Ian Ziegler / January 3, 2017
Comment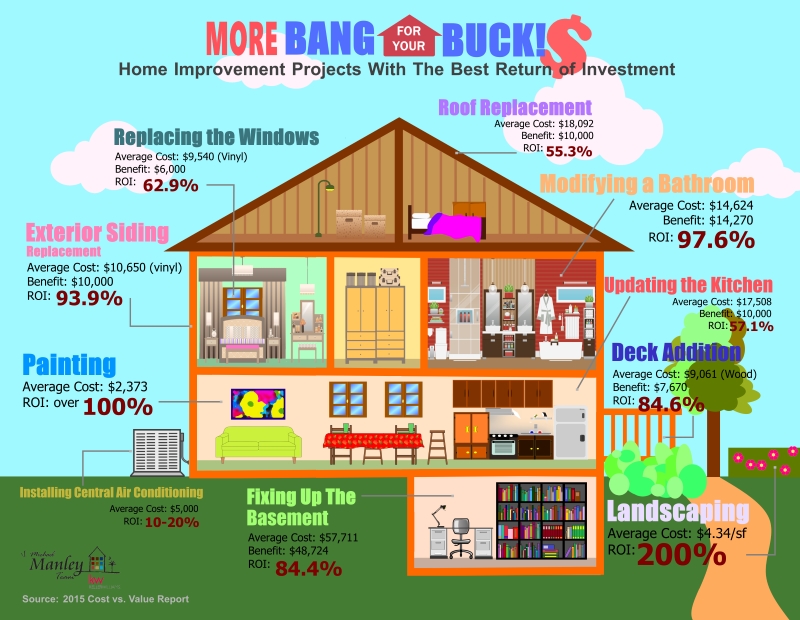 Everybody naturally wants to get the best price possible when thinking about selling their home; but just the fact that it is your home can make you think it's worth more than it actually is. Keeping it well-maintained is a good idea and when updating it's important to weigh your return on investment. In other words, knowing which home improvement projects are going to give you the best return on investment is important. Here's a breakdown of the best home improvements:
1. Bathroom Remodel
For every dollar you spend spiffing up your bathroom, you'll get back all the money you put in, plus 2% for a 102% rate of return. Simple fixes include repainting, re-caulking the tub, removing and replacing old shower doors, and replacing old faucets with newer, more up-to-date models.
2. Landscaping
You'll get a 100% return on any landscaping you do, plus you'll increase curb appeal, helping your home to sell faster. A splash of color in the front of the house is eye-catching. Use all one color for maximum impact and vary the height to the plants. A focal point such as an arbor or a flagstone walkway, adds great curb appeal.
3. Kitchen Remodel
Making minor update to your kitchen will earn you a 98.5% return on your investment. Do simple things like changing out moldings, replacing window treatments, installing recessed lights under cabinets, and refacing or sanding and painting your existing cabinets. If the appliances are fine, leave them. If not, replace what you can with more energy-efficient models.
4. Update Your Home's Exterior
You'll get a 95.5% rate of return on things like updating the front entry with a new door, adding new stair railings, and painting the house. Replace an old porch with columns and a pergola for an updated look.
#5 Believe it or not, converting an attic into an extra bedroom offers the fifth largest return for your money -- an average of 90.3%. If you're handy with a hammer and nails, do as much as you can yourself to save even more. Remember to factor in things like extra insulation and air conditioning or a good ceiling fan, since an attic room will definitely need extra cooling in the summer.
Disclaimer, make sure to check with your local real estate agent on home values. You dont want to over improve your house or spend unnecessary money on repairs that may not be needed. Consulting a expert in your market is criticial in selling your home.
Other home improvement links:
http://www.hgtv.com/design/decorating/clean-and-organize/which-home-improvements-pay-off
https://www.houselogic.com/save-money-add-value/add-value-to-your-home/home-remodeling-projects-with-long-term-ROI/
http://www.realtor.com/advice/home-improvement/heres-how-much-remodeling-pays-off/
http://www.bankrate.com/finance/real-estate/best-home-fixes-for-the-money-1.aspx
http://www.forbes.com/forbes/welcome/?toURL=http://www.forbes.com/2010/04/09/best-worst-home-improvements-personal-finance diy.html&refURL=https://www.google.com/&referrer=https://www.google.com/